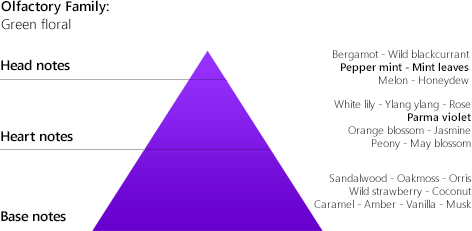 Fleurs d'Ombre Violette-Menthe
"Violette-Menthe" was designed by Jean-Charles Brosseau as an intimate evocation of deep-seated, persistent memories. It reflects the colours of forests and gardens, where trees mingle with flowers, moss, light, shadows, birds and ladybugs. A mixture of simplicity in nature and the complexity of individual colours, fragrances and materials: bark, stems, rocks, leaves, soil, shadow and light. "Violette-Menthe" is a condensate of all these elements, a revival and an accomplishment at once.
The very timid but sweet violet is powdery and elegant while the mint brings a touch of invigorating herbal freshness.