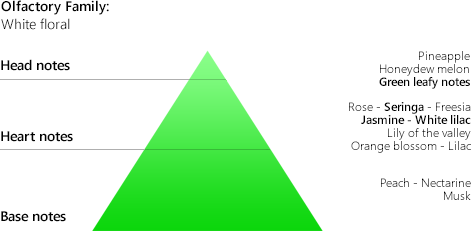 Fleurs d'Ombre Jasmin-Lilas
Luminosity and radiance are the two major characteristics of "Jasmin-Lilas". Thanks to its radiant whiteness, this flower relies on its inherent power to utterly mesmerize us. Yet, the garden offers up such exquisite essences and the sweet mock orange branches gently brush against the jasmine, lily of the valley, lilac and the first roses of the season, as well as the new, fresh green leaves.
Imagine a large bouquet of white flowers next to fruit bowls brimming with Spanish melon, peaches and pineapple: Jasmin-Lilas will plunge you into the luminous atmosphere of a springtime garden.