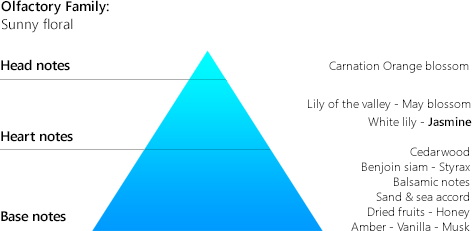 Fleurs d'Ombre Ombre Bleue
"Ombre Bleue" was designed by Jean-Charles Brosseau and is a perfume of vacations, beaches and distant journeys. Sun-filled memories mingle with the purity of the islands, and many other scents; this perfume resembles a flutter of wings or a light ripple of leaves.
It is hard for any of us to forget the particularly happy childhood scents of the beach and the sea, when you draw near. Every shore offers its own fragrance. Orange tree, mimosa and bougainvillea stand for the Mediterranean, and the sea-pink, rose, vanilla and plum for the Atlantic Ocean. Tiare flower embodies the Pacific.