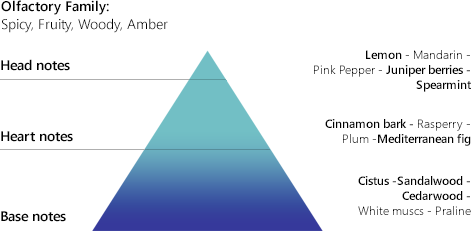 Collection Homme Bois d'Orient
Under the name of "Bois d'Orient" ("oriental wood") is hiding a very modern olfactory novelty since its perfectly associated components are forming a scent at one and the same time rich, fruity, woody, spicy and amber.
The citrus beginning is a refreshing cocktail of lemon and mandarin accompanied by the bite of spearmint and juniper berries.
Then comes Mediterranean fig blowing hot and cold with oriental cinnamon and juicy raspberries.
Cedarwood and sandalwood drowning into white musk's and with the cistus and praline provide a meaning of comfortable sensuality